Erschienen in: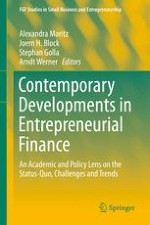 2020 | OriginalPaper | Buchkapitel
European SME Financing: An Empirical Taxonomy
Abstract
This study investigates financing patterns of European SMEs by looking at a large number of different financing instruments and their complementary and substitutive effects, using the SAFE dataset collected in 2015. We develop an empirical taxonomy of SME financing patterns in Europe to analyse SME financing, applying cluster analyses. Our cluster analysis identifies seven distinct SME financing types based on the financing instruments used: mixed-financed SMEs with focus on other loans, mixed-financed SMEs with focus on retained earnings or sale of assets, state-subsidised SMEs, debt-financed SMEs, trade-financed SMEs, asset-based financed SMEs and internally financed SMEs. Moreover, the SME financing types can not only be profiled according to their firm-, product-, industry- and country-specific characteristics but also to macroeconomic variables. Our findings can support policy makers in assessing the impact of changes in policy measures for SME financing.