2017 | Supplement | Buchkapitel Open Access
16. Evaluating Climate Change Adaptation in Practice: A Child-Centred, Community-Based Project in the Philippines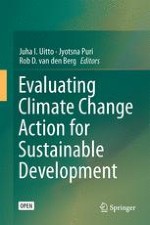 Autoren: Joanne Chong, Pia Treichel, Anna Gero
Abstract
Whilst the principles of evaluating climate change adaptation are widely documented, there are many challenges in applying these principles in practice to evaluate, improve and learn from multi-sector, multi-scale and multi-stakeholder CCA initiatives with uncertain and future-oriented outcomes.
This chapter documents a research-evaluation approach applied during a 3-year, child-centred, community-based CCA project implemented in 40 barangays across four vulnerable provinces in the Philippines. The research aimed to help project implementers to learn from real-time feedback and perspectives from children and their communities and other participants. Researchers from the Institute for Sustainable Futures, University of Technology Sydney and practitioners from implementing NGOs Plan International and Save the Children collaborated on translating theory-based and development evaluation techniques into the field. We developed local-level indicators of adaptation, participatory focus group discussion and interview methods, and a guidance document for gathering and analysing evidence against these indicators.
Key to the success of this method was its participatory foundations – operationalising the principle that since ultimately adaptation is local, local voices and perspectives matter in understanding the impact of a project. Whilst there are limits to the "ideal" evaluation process, it is possible to achieve evaluative rigour in a process that is sensitive to the practical realities and pressures of project implementation. Embedding research and learning within practice – in the inherently uncertain context of supporting a community to adapt to climate change – provided new pathways for realising and sharing learnings to achieve better adaptation outcomes.