2020 | OriginalPaper | Buchkapitel
Evaluating Quality in Tourism Destination Websites of Peloponnese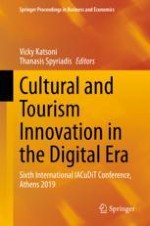 Erstes Kapitel lesen
Autoren: Kourtesopoulou Anna, Nikolakakou Christina, Moustakarias Nikos, Grapsa Theodoula
Abstract
Tourism destination websites contribute significantly to the competitiveness of a tourism destination. Websites and mobile technology are their main digital marketing contributors by providing tailored and up-to-date information. Since limited research has been done about non-commercial travel websites, this study aims to identify whether selected Peloponnese destination websites apply integrated quality as a mean to raise their brand competitiveness.
Methods: A content analysis was performed in order to assess the destination websites quality performance. The used website quality assessment consists of a set of 42 parameters covering content and usability characteristics. The selected tourist destination websites were chosen according to two criteria: (1) their ability to provide at least two options in language Greek and English and (2) their main destination will be either Peloponnese or a region of it.
The results: The analysis of the data revealed that tourism destination websites average performance level was weak. In total they seemed to perform better in content than in usability. According to the result, leading quality indicators of destination websites found to be the audience, the page load time and advertising. However, there is still room for improvements with relation to information accuracy, access, navigation as well as interactivity.
Conclusions: As indicated by the results, there are elements to the selected destination websites that may be improved targeting an excellence quality performance. The destination websites will keep on playing a basic role in tourism communication, thus quality excellence should ensure the optimization of tourist experience and increase the intention for visiting these destinations.