26.03.2018 | Original Paper | Ausgabe 2/2019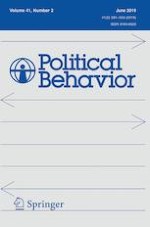 Evaluating the News: (Mis)Perceptions of Objectivity and Credibility
Zeitschrift:
Autor:

Dimitri Kelly
Abstract
The introduction and popularity of politically biased news sources represents a significant historical shift in the media environment, with important unexplored consequences. Evidence points to partisan segmentation in the contemporary news market, but while assumptions abound, the mechanism driving consumers to sort along party lines is unclear. I develop a framework for news choice based on perceptions of objectivity and credibility and report a test of its central mechanism using a nationally representative survey experiment. I find support for a congenial media effect, where news content from an unfamiliar source is seen as more credible and less biased when it is consistent with existing beliefs, while balanced news content may be dismissed as less credible and biased. Previous studies have examined how perceptions of bias in identical news content can change when it is attributed to different
sources
. In today's media world however, access to more news sources generally and the ease with which content from those sources can be shared makes it increasingly likely people will be exposed to news content from either unknown or potentially fake news sources. This study contributes to the literature by identifying the unique effect of message
content
on perceptions of news bias and source credibility, while holding source constant. Paradoxically, my findings indicate that political selective exposure may arise out of individuals' genuine desire for unbiased news.