01.11.2013 | LIFE CYCLE SUSTAINABILITY ASSESSMENT: FROM LCA TO LCSA | Ausgabe 9/2013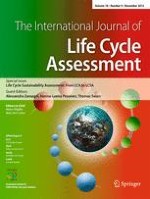 Evaluating the Sustainability SWOT as a streamlined tool for life cycle sustainability assessment
Zeitschrift:
Autoren:

Hanna-Leena Pesonen, Susanna Horn
Wichtige Hinweise
Responsible editor: Thomas Swarr
Abstract
Purpose
From a management perspective, there are two main issues in the life cycle sustainability assessment framework which require further work: (1) the approaches to quicken the resource-consuming inventory and assessment process and (2) the easy-to-understand communication of the results. This study aims at contributing to these needs for quicker and cost-efficient ways to draft strategies that include the life cycle perspective and encompasses all three dimensions of sustainability in an easily communicable way. The focus of the study is on a streamlined, rapid assessment the tool proposed by Pesonen (
2007
) called the Sustainability SWOT (Strengths, Weaknesses, Opportunities, Threats) and on the empirical testing of whether or not it is understood in the corporate world and if it leads to concrete changes in either strategic- or operative-level activities.
Methods
The data for the research were empirically collected from a survey targeted to representatives of organizations having used the Sustainability SWOT within the last 5 years. The primary findings, i.e., the generated changes or improvements, were reflected in the various levels of cooperation in a network (along the value chain, in end users, in the institutional framework).
Results and discussion
The results of the analyses of both the usability of the Sustainability SWOT in business as well as the suggested assessment framework leading to any actual changes were promising. It is encouraging that the streamlined approach tailored according to the logic of business decision-makers (i.e., inclusion of the SWOT) is able to find the acceptance and understanding of that vital group. Remarkably, many changes were initiated—not only at an operative level but also at a strategic level and in the entire value chain—by carrying out an exercise such as the Sustainability SWOT.
Conclusions
The Sustainability SWOT has proven to be usable and able to generate changes and improvements along the value chain and, in some cases, in the institutional context as well.