01.08.2014 | Research Paper | Ausgabe 4/2014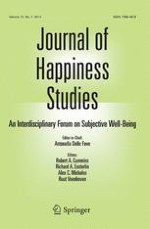 Evaluation of Affect in Mexico and Spain: Psychometric Properties and Usefulness of an Abbreviated Version of the Day Reconstruction Method
Zeitschrift:
Autoren:

Francisco Félix Caballero, Marta Miret, Beatriz Olaya, Jaime Perales, Ruy López-Ridaura, Josep Maria Haro, Somnath Chatterji, José Luis Ayuso-Mateos
Abstract
The aims of the present study were to assess the psychometric properties of the Spanish-language version of the abbreviated Day Reconstruction Method (DRM), and to investigate differences in affective experience in Mexico and Spain. A total of 2,629 adults from Mexico and 4,583 from Spain were interviewed. Information was obtained using an abbreviated version of the DRM, which had been translated into Spanish. Reliability, validity, and the structure of affect were assessed and compared between countries. The diurnal variation of affect, the changes in affect along the life span, time use, and the relationship between affect and socio-demographic characteristics were also analysed. Adequate psychometric properties for the Spanish-language version of the abbreviated DRM were found in both the Mexican and the Spanish samples, and affect tended to improve along the life span in both countries. However, net affect did not have the same distribution function (Kolmogorov–Smirnov statistic = 0.25,
p
< 0.001) in both countries, being higher in Spain. Moreover, both samples showed opposite patterns in the diurnal variation of affect. The results showed that the Spanish-language version of the DRM is a feasible and valid method to measure affect, its diurnal rhythms, and time use in large-scale surveys.