01.12.2014 | Original Article | Ausgabe 4/2014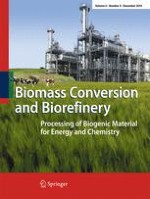 Evaluation of cellulosic and hemicellulosic hydrolysate fermentability from sugarcane bagasse hybrids with different compositions
Zeitschrift:
Autoren:

D. V. Cortez, I. C. Roberto, M. H. P. Barbosa, A. M. F. Milagres
Abstract
Seven sugarcane hybrids with varying initial level of cell wall components were evaluated as substrates to ethanol production from cellulosic and hemicellulosic fractions by
Pichia stipitis
NRRL Y-7124, following pretreatment and enzymatic hydrolysis. The bagasses were pretreated with diluted sulfuric acid to separate the hemicellulose hydrolysate, whereas the cellulignin was hydrolyzed by commercial cellulase to attain the cellulosic hydrolysate. The cellulose conversion varied from 35 to 58 %, and based on the cellulignin composition, it was possible to describe a correlation between the enzymatic conversion of cellulose (ECC, %) as a function of lignin/hemicellulose ratio. For all the cellulosic hydrolysates, the yeast
P. stipitis
was able to convert glucose into ethanol with yield and volumetric productivity varying from 0.29 to 0.34 g/g and from 0.55 to 0.88 g/L h, respectively. On the other hand, the hemicellulosic hydrolysates were poorly utilized by this yeast due to the high level of inhibitory compounds, such as acetic acid and furans. Under the pretreatment conditions used, it was possible to point out a clone (referred as number 8) with potential for fermentation of both cellulosic and hemicellulosic hydrolysates.