20.04.2018 | Original | Ausgabe 4/2018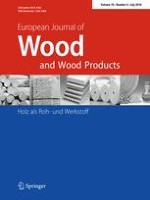 Evaluation of chemical treatments to tensile properties of cellulosic bamboo fibers
Zeitschrift:
Autoren:

Xi Yang, Kun Wang, Genlin Tian, Xing'e Liu, Shumin Yang
Wichtige Hinweise
Electronic supplementary material
Publisher's Note
Springer Nature remains neutral with regard to jurisdictional claims in published maps and institutional affiliations.
Abstract
Acidified sodium chlorite (NaClO2) and sodium hydroxide (NaOH) solutions were successfully used to eliminate lignin and hemicellulose, respectively, from isolated bamboo fibers to investigate their microstructures, composition and micro-tensile properties in individual cellulose fibers. The results demonstrated that isolated fibers and chemically treated fibers clearly displayed different wrinkles, pores and microfibril aggregations on the cell wall surface. Field emission environmental scanning electron microscope images together with confocal scanning laser microscope measurements revealed that chemical treatments have a reduction effect on micro-tensile strength and modulus. Two methods of freeze-drying and air-drying produced varying interfaces and pores in microfibril aggregations and resulted in different tensile behavior. Notably, the reductions of Young's modulus and tensile strength in freeze-drying (52.99 and 13.32%) fibers are larger than that (18.21 and 10.93%) in air-drying samples. These results suggest that most fractures occur in the weak interspaces or pores that are caused by the loss of matrix materials during chemical treatments.