20.02.2019 | Original Article | Ausgabe 1/2019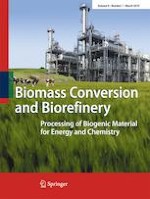 Evaluation of combined screening and drying steps for the improvement of the fuel quality of forest residue wood chips—results from six case studies
Zeitschrift:
Autoren:

Daniel Kuptz, Kathrin Schreiber, Fabian Schulmeyer, Simon Lesche, Thomas Zeng, Finn Ahrens, Volker Zelinski, Claudia Schön, Annett Pollex, Herbert Borchert, Volker Lenz, Achim Loewen, Michael Nelles, Hans Hartmann
Wichtige Hinweise
Publisher's note
Springer Nature remains neutral with regard to jurisdictional claims in published maps and institutional affiliations.
Abstract
Wood chip quality is essential for failure-free and low-emission combustion in automatically stoked small-scale biomass boilers (< 100 kW). Screening and drying of wood chips might be suitable to reduce fuel heterogeneity and to guarantee defined qualities according to ISO 17225-4. Six case studies on screening and drying of forest residue wood chips were performed at German biomass terminals. Screening was done using drum, star, or jigger screens. Drying was done in storage piles and in rolling bed, walking floor, belt, and batch container dryer. Throughput rate was assessed on-site. Fuel properties were analyzed according to international standards. Moisture content of fresh wood chips was too high for small-scale biomass boilers (up to 51 w-%). Raw materials did not comply with specifications of ISO 17225-4 (i.e., ash content, particle size) while fuel indices (Fe/Mn, Al/200) implied contamination with soil material. Technical drying provided moisture contents ≤ 15 w-% while natural drying in piles resulted in values often exceeding 35 w-%. Screening reduced ash content, fines, oversized particles, and the share of N, S, Cl, K, and Si. Screening of pre-dried fuels seems to be beneficial compared to screening of fresh wood chips. After processing, chips could usually be classified as specification A2 to B1 according to ISO 17225-4.