04.11.2020 | CIGRE 2020 | Ausgabe 8/2020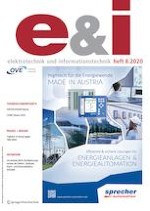 Evaluation of dynamic loading capability for optimal loading strategies of power transformers
Zeitschrift:
Autoren:

I. Lupandina, W. Gawlik, M. Schrammel, A. Ilgevicius, M. Kürten, K. Viereck
Wichtige Hinweise
Paper submitted for the CIGRE Session 2020, SC-D1, September 2, 2020, online.
Publisher's Note
Springer Nature remains neutral with regard to jurisdictional claims in published maps and institutional affiliations.
Abstract
Increasing needs for operational flexibility encourage concepts of using thermal operational limits of grid equipment instead of nominal limits, e.g., "dynamic line rating" for transmission lines. Using the available loading flexibility of complex and valuable power transformers requires a comprehensive approach. The thermal state and condition of a power transformer are among the most considerable impact factors for planning overload capability and lifetime management in the long term.
This paper investigates the dynamic loading capability of power transformers by using a dynamically calculated initial thermal state, set thermal limits and a dynamic thermal model as proposed in the IEC 60076-7:2017. Different thermal limits can be set depending on the operation state, e.g., long-term emergency or insulation-friendly. The suggested thermal limits also consider ageing and dielectric properties of insulation. Thermal limits of equal ageing velocity for different moisture content in solid insulation can be used to operate the transformer with respect to long-term asset management strategies.
Using the proposed reverse calculation of the thermal model's steady-state loading limits, e.g., nameplate rating, the permissible short-term loading beyond the steady-state limits can be obtained for given timespan. The dependency of the steady-state loading limit from ambient temperature is approximated as a polynomial function with linear, quadratic and cubic components.
For a safe loading of the power transformer the steady-state limits of the subsystems have to be compared. The study shows that the hot-spot steady-state limits for normal and long-term emergency loading are lower than the top-oil steady-state limits.
Power transformers are usually subject to variations in the loading profile. The current thermal state becomes essential for the estimation of the thermal reserve and loading capability, especially when permissible overloading for a time of up to 60 minutes is scheduled. When determining the possible overload for a longer time span, the validity of the results is decreasing due to growing uncertainties. Moreover, the paper proposes a system to enhance the model by a moisture migration model for mineral-oil-immersed power transformers, decision-making under uncertainties assistance and transformer's intelligent condition assessment system.