01.08.2014 | Original Article | Ausgabe 4/2014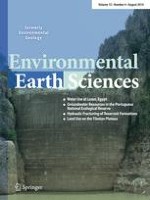 Evaluation of hydrocarbon pollution in marine sediments of Sfax coastal areas from the Gabes Gulf of Tunisia, Mediterranean Sea
Zeitschrift:
Autoren:

Hatem Zaghden, Monem Kallel, Boubaker Elleuch, Jean Oudot, Alain Saliot, Sami Sayadi
Abstract
The Tunisian environmental legislation that follows the EC Directives requires monitoring of persistent, toxic and bio-accumulated substances commonly considered as hazardous substances. In order to comply with this requirement, samples of sea water, sediment and biota from the urbanized and industrialized coast line of Sfax city are investigated. This study presents the results of petroleum hydrocarbon content, distribution and probable origin (anthropogenic and/or biogenic) in 16 intertidal sediments of Sfax coastal area. Alkane distribution indices and hydrocarbon distribution patterns are used to identify natural and anthropogenic input. Non-aromatic hydrocarbons present a high concentration with a range varying from 180 to 1,400 μg/g of dry sediment. The total concentrations of polycyclic aromatic hydrocarbons (PAHs) varied from 0.41 to 5.6 μg/g dry weight. These concentrations are comparable to other marine areas that receive important inputs.
n
-Alkanes with carbon number ranging from 15 to 35 are identified to be derived from both biogenic and anthropogenic sources in varying proportions. Pristane/phytane ratio shows values lower than 1.4 suggesting the presence of petroleum contamination. This is confirmed by the presence of a large group of unresolved complex mixture and the identification of hopanes with predominant C29 and C30 compounds and steranes with predominance of C27 over C28 and C29 compounds. Ratios of selected PAH concentrations indicate petrogenic and pyrolytic origin of hydrocarbons. Anthropogenic hydrocarbon inputs were more apparent at sites associated with industrial discharges, shipping activities and sewage outfalls.