2011 | OriginalPaper | Buchkapitel
8. Evaluation of ISCO Field Applications and Performance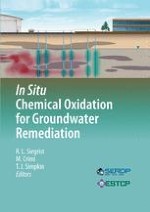 Erstes Kapitel lesen
Autoren: Friedrich J. Krembs, Wilson S. Clayton, Michael C. Marley
Verlag: Springer New York
Scope
Analysis of field-scale
in situ
chemical oxidation (ISCO) case studies to evaluate site conditions and design parameters affecting performance.
Key Concepts
ISCO has been applied to many different types of sites, at a wide range of project scales, and using a variety of design approaches.

Most projects attempted to remediate volatile organic compounds (VOCs), especially chlorinated ethenes.

The majority of applications were at sites where ISCO was used to treat permeable, unconsolidated media, though there were also applications in impermeable unconsolidated media and fractured rock.

Half of the applications met the goals specified for the ISCO project. The success rate was highly correlated with the stringency of the goals attempted. Very few sites were successful in meeting maximum contaminant levels (MCLs); No sites with known or suspected dense nonaqueous phase liquid (DNAPL) met MCLs.

ISCO has been more successful treating fuel-related compounds than chlorinated compounds.

Median project cost was $220,000, and the median unit cost was $94 per cubic yard treated. Project scale, the presence of DNAPL, and delivery method appeared to directly influence these costs.

No lasting reductions in microbial activity were noted among the 15 case studies that monitored microbial populations.

Half of the projects that monitored aqueous phase metals concentrations noted transient increases. The duration and severity of these increases was highly site specific. Only two sites reported off-site impacts; these two used constant injection systems, and the off-site impacts abated after injection system modification.