01.01.2015 | Research Paper | Ausgabe 1/2015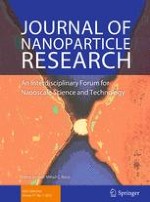 Evaluation of magnetic- and carbon-based nano-adsorbents application in pre-purification of paclitaxel from needles of
Taxus baccata
Zeitschrift:
Autoren:

M. R. Naghavi, E. Motamedi, J. Nasiri, H. Alizadeh, M. R. Fattahi Moghadam, A. Mashouf
Wichtige Hinweise
Electronic supplementary material
The online version of this article (doi:
10.​1007/​s11051-014-2830-3
) contains supplementary material, which is available to authorized users.
Elaheh Motamedi and Jaber Nasiri contributed equally to this work.
Abstract
In this investigation, the proficiency of a number of magnetic carbon-based nano-adsorbents is evaluated in pre-purification process of the crude paclitaxel extract obtained from fresh needles of yew tree (
Taxus baccata
L.). The effectiveness and removal ability of color and impurities from crude extracts, for three novel candidate nano-adsorbents (i.e., Fe
3
O
4
nanoparticles (Fe
3
O
4
Nps), graphite oxide (GO), and their hybrids Fe
3
O
4
Nps/GO) are compared with commercial graphite in three different solvents. In general, both HPLC and UV–Vis spectroscopy results demonstrate that in less polar solvent (i.e., dichloromethane), the adsorption is greatly affected by the electrostatic attractions, while in more polar solvents (i.e., acetone and ethanol) π–π electron interactions taking place between adsorbent and adsorbate are the most dominant factors in sorption. Considering decolorization efficiency, purity of taxol, recovery and reusability of adsorbents, Fe
3
O
4
Nps/GO (50 g/L) in dichloromethane is selected as the best medium for pre-purification of paclitaxel. Additionally, in kinetic studies the sorption equilibrium can be reached within 120 min, and the experimental data are well fitted by the pseudo-second-order model. The Langmuir sorption isotherm model correlates well with the sorption equilibrium data for the crude extract concentration (500–2,000 mg/L). Our findings display promising applications of Fe
3
O
4
Nps/GO, as a cost-effective nano-adsorbent, to provide a suitable vehicle toward improvement of paclitaxel pre-purification.