2020 | OriginalPaper | Buchkapitel
Evaluation of Microbiological Parameters of Drinking Water from the Dobrenica Water Supply System in Ostrožac na Uni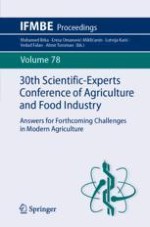 Erstes Kapitel lesen
Autoren: Samira Dedić, Huska Jukić, Miloš Rodić, Zlatko Jusufhodžić, Aida Džaferović
Abstract
The Dobrenica water supply system in Ostrožac on Uni was originally intended only for drinking water supply for the Sedra Hotel. Later on, the left and the right side of the village Ostrožac on Uni, i.e. Donji Srbljani, were connected to the Dobrenica water supply. Since the Sedra Hotel has been closed for three years, the maintenance of the water supply system and the chlorination of water has ceased. At the moment, the water is chlorinated at the entrance to the hotel facility due to special circumstances (holding facilities for migrants), while the villagers still receive unsafe and nonchlorinated water. Water samples were analysed for basic microbiological parameters:
Echcerichia coli
and coliform bacteria, total aerobic colony count at 22 °C and 37 °C, intestinal enterococci,
Pseudomonas aeruginosa
, and
Clostridium perfringens
. Microbiological analyses of water samples were performed in the laboratory of the Public Institution Veterinary Institute in Bihać, which has accredited methods required by the Standard BAS EN ISO/IEC 17025: 2006 issued by the Institute for Accreditation of BiH, and MACs are taken from the Guidelines for drinking-water quality ("Official Gazette of BiH", No. 40/2010, 43/2010, 30/2012 and 62/2017). The results of the analyses indicate the presence of coliform bacteria,
Echcerichia coli
,
Pseudomonas aeruginosa, Clostridium perfringens
, and intestinal enterococci. A high percentage of unsafe water samples indicate the need to monitor the micro- biological quality of water for safer drinking water supply to the population. In order to make the water safe for further use, it is necessary to first rinse the pipes and then proceed with regular chlorination.