01.08.2013 | Original Article | Ausgabe 7/2013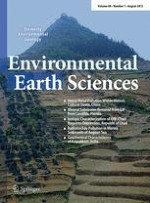 Evaluation of mineral substrates for in situ iron removal from groundwater
Zeitschrift:
Autoren:

Yu Wang, Saraya Sikora, Hwidong Kim, Jean-Claude Bonzongo, Dean Rhue, Timothy G. Townsend
Abstract
Calcium carbonate-based materials (CCBM) have been found to remove Fe(II) and other divalent metal cations from aqueous solution and thus have the potential for incorporation into remediation systems to remove Fe(II) from groundwater at landfills. Research was conducted to examine the ability of a range of CCBM to remove Fe(II) and assess the mechanism of removal. Different CCBM (limestone, concrete, dolomite, marble), as well as gypsum, witherite, and quartz sand, were tested for their ability to remove Fe(II) from water using batch tests conducted under anaerobic conditions. Limestone (specific surface area of approximately 0.46 m
2
/g) was found to have the best removal effectiveness, and the final Fe(II) concentration was reduced from 50 to <0.01 mg/L. Kinetics experiments conducted over a 72 h period indicated that the removal process of Fe(II) by CCBM was a two-step process. The first step is rapid sorption of Fe(II) onto the CCBM surfaces within the first hour, and the second step is relatively slow co-precipitation of iron-containing solids formed through various chemical reactions. The two best performing CCBM (limestone and concrete) were evaluated for their removal ability based on media particle size (diameters of 3–5, 7–10, 15–25, and 40–50 mm) and revealed statistically significant (
p
< 0.01) increases in Fe(II) removal for each particle size class examined. SEM analysis of reacted materials revealed visible precipitates on the reactive material surface; XRD analysis was not able to detect crystalline Fe minerals on limestone surface.