01.06.2015 | Original paper | Ausgabe 3/2015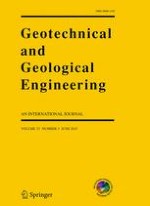 Evaluation of Rock Nail Wall Performance in Jointed Rock Using Numerical Method
Zeitschrift:
Autoren:

Hatef Hashemi, Ibrahim Naeimifar, Ali Uromeihy, Shahaboddin Yasrobi
Abstract
The performance of excavation wall supported by nailing method is highly dependent on geological and geotechnical conditions of excavation area. In some cases, excavation area may be located in the jointed or weathered rocks. Joints are fractures of natural origin in the continuity of either a layer or body of rock
http://​en.​wikipedia.​org/​wiki/​Rock_​(geology)
that lacks any visible or measurable movement parallel to the surface plane of the fracture. Because of the low shear and tensile strengths of these discontinuities, as well as the looseness of a rock mass due to the unloading by excavation, rock masses can slide along these structural planes. It should be noted that excavation-induced ground movements are a major cause of deformation and damage to the existing buildings and utilities in the excavation affected zone. This paper concerns the performance of excavation walls supported by rock nails in rock masses having joints and damage levels of a structure adjacent to excavation area, using the results of numerical investigation. For this purpose, parameters such as wall deflections included cantilever and bulging displacements, settlement under structure and settlement ratio were investigated. In this regard, joints inclination and joints spacing effects were evaluated for this point. To evaluate the effects of mentioned parameters on the performance of excavation wall and building damage caused by wall deflections, a set of calibrated 2D finite element models were developed by considering all interactions between nail-rock-structure, anisotropic properties of jointed rock medium and staged construction process. This work was conducted over 100 developed models. The results of investigation indicated that different parameters such as anisotropy of rocks, joints inclination have significant effects on performance of excavation walls supported by rock nails, and damage levels of structures adjacent to the excavation area.