23.05.2017 | Original Article | Ausgabe 3/2018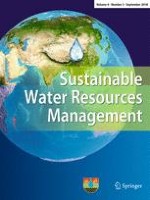 Evaluation of spring discharge dynamics using recession curve analysis: a case study in data-scarce region, Lesser Himalayas, India
Zeitschrift:
Autoren:

Vikram Kumar, Sumit Sen
Abstract
There is a huge concern that the springs originating naturally from unconfined aquifers which are the main sources of domestic water on mountainous regions are either drying up or becoming seasonal. To understand the behavior of these springs, an analysis of spring discharge recession curve based on Darcian theory is being employed. A fracture- and contact-type spring located in the Aglar watershed has been instrumented for continuous discharge data collection. Objectives of this study are (1) to understand recession curves for different rainfall events, (2) to develop a master recession curve (MRC) and gain integrated information during the lean period and (3) to analyze the flow duration curve (FDC) for estimation of sustainable drinking water supply from spring. Ten major recession events from continuous daily rainfall and discharge data has been selected to understand the flow behavior during recession using exponential, least square, hyperbola and to develop a combined power law and exponential method. This paper also presents the MRC using three recession components (
α
1
,
α
2,
and
α
3
) as compared one recession coefficient. Domestic water requirement and availability is assessed by FDC analysis over the 2 years daily data. Analysis of ten events shows that, the combined power law and exponential relationship fits the recession curve, NSE (0.97–0.99) and RMSE (0.07–0.50) during the dry period in which depletion of flow occurs with low hydraulic conductivity and the exponential component represents its base flow, whereas the least square method fits the recession curve having NSE (0.90–0.99) and RMSE (0.07–0.22) during the wet period. The MRC supports the use of three exponential coefficients over a single exponential coefficient. The change in these ratio (
α
1
/
α
2
) from 5 to 8.76 and (
α
2
/
α
3
) from 9.21 to 2.9 explains the heterogeneity in the spring aquifer. The relationship between (−d
Q
/d
t
) and (
Q
) for recession events has different configuration which characterizes the dynamic behavior of spring. The flow duration curve indicates that there is water scarcity during dry seasons with around 30.6 liter per min could be taken as the characteristic value for the minimum spring flow.