16.10.2017 | Research Paper | Ausgabe 6/2017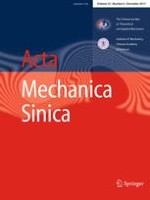 Evaluation of stress intensity factors for bi-material interface cracks using displacement jump methods
Zeitschrift:
Autoren:

K. C. Nehar, B. E. Hachi, F. Cazes, M. Haboussi
Abstract
The aim of the present work is to investigate the numerical modeling of interfacial cracks that may appear at the interface between two isotropic elastic materials. The extended finite element method is employed to analyze brittle and bi-material interfacial fatigue crack growth by computing the mixed mode stress intensity factors (SIF). Three different approaches are introduced to compute the SIFs. In the first one, mixed mode SIF is deduced from the computation of the contour integral as per the classical
J
-integral method, whereas a displacement method is used to evaluate the SIF by using either one or two displacement jumps located along the crack path in the second and third approaches. The displacement jump method is rather classical for mono-materials, but has to our knowledge not been used up to now for a bi-material. Hence, use of displacement jump for characterizing bi-material cracks constitutes the main contribution of the present study. Several benchmark tests including parametric studies are performed to show the effectiveness of these computational methodologies for SIF considering static and fatigue problems of bi-material structures. It is found that results based on the displacement jump methods are in a very good agreement with those of exact solutions, such as for the
J
-integral method, but with a larger domain of applicability and a better numerical efficiency (less time consuming and less spurious boundary effect).