09.11.2017 | MECHANICAL MEASUREMENTS | Ausgabe 7/2017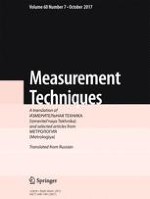 Evaluation of the Fracture Toughness of Titanium Nitride Hardening Coatings According to Kinetic Indentation and Acoustic Emission Parameters
Zeitschrift:
Autoren:

V. K. Kachanov, I. V. Sokolov, V. M. Matyunin, V. A. Barat, V. V. Bardakov, A. Yu. Marchenkov
Wichtige Hinweise
Translated from Izmeritel'naya Tekhnika, No. 7, pp. 41–44, July, 2017.
The possibility of the effective use of the kinetic indentation method in combination with the acoustic emission method for evaluating the fracture toughness of titanium nitride hardening coatings is shown. It is established that the occurrence of the first jog on the loading line of the kinetic indentation diagram in "load–indentor displacement–time" coordinates is due to the formation of the first crack in the coating and practically coincides in time with the occurrence of the acoustic emission impulse with an increased energy value. This permits a more accurate and substantiated determination of the critical load, indentation depth of the indentor, and hardness at which the first visible ring crack forms around the impression on the coating surface.