01.07.2013 | Original Article | Ausgabe 6/2013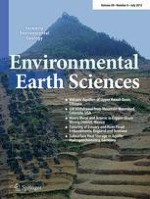 Evaluation of the impact of pyrite oxidation on rock characteristics and environment by laboratory tests
Zeitschrift:
Autoren:

Ik Woo, Jae Gon Kim, Gyoo Ho Lee, Hyuck Jin Park, Jeong Gi Um
Wichtige Hinweise
Electronic supplementary material
The online version of this article (doi:
10.​1007/​s12665-012-2014-3
) contains supplementary material, which is available to authorized users.
Abstract
Pyrite is a common and abundant sulfidic mineral subject to oxidation. The weathering characteristics of rock-bearing pyrite sometimes impose serious influences on the surrounding environment as the oxidation of pyrite (FeS2) generates acid drainage that results in the acceleration of rock weathering and the discharge of heavy metals into the environment. Such an accelerated weathering of rocks can reduce its mechanical properties and therefore menace the stability of rock structures, such as excavated slopes and tunnels. The evolution of physical properties of rocks and the chemical composition of drainage were evaluated in this study by a weathering test using a double Soxhlet extractor for 1 month in a laboratory setting. Three groups of biotite gneiss classified according to their pyrite content were used for the Soxhlet extraction experiment (group A with less than 0.1 wt% of pyrite; group B with about 3.3 wt% of disseminated pyrite; group C with about 5.65 wt% of vein type pyrite). The massive groups A and B had limited weathering on the surface; however, group C with the pyrite vein experienced weathering on the surface as well as along the pyrite vein. The weathering type regulated by the occurrence of pyrite apparently controlled the mechanical properties of the rock samples and the chemistry of the drainage. Groups A and B showed no significant quick absorption ratio after the 1-month experiment; however, group C had about 10 % increase in value. The uniaxial compressive strength of the three groups decreased about 20, 10 and 45 % for groups A, B and C, respectively. The mechanical properties of the samples and the chemical compositions of the drainage indicate that the oxidation of pyrite contained in the samples accelerated weathering, resulting in deterioration of mechanical properties of the rocks, and could result in the discharge of heavy metals and acid into the environment with the drainage.