01.09.2015 | Original Article | Ausgabe 3/2015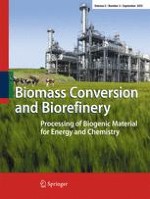 Evaluation of the physical properties of composite briquette of sawdust and palm kernel shell
Zeitschrift:
Autor:

Okey Francis Obi
Abstract
The study investigated the effect of the addition of ground palm kernel on some physical properties of sawdust briquette using cassava starch as the binding agent. Sawdust and ground palm kernel shell (PKS) were mixed in ratios of 100:0 (control), 90:10, 80:20, 70:30, 60:40 and 50:50 and briquettes produced from the biomass blend. The addition of palm kernel shell had a significant effect (
p
 < 0.05) on the physical properties of the briquette blend. The relaxed density and the durability ratings of the briquettes increased with the addition of ground PKS, while their ability to withstand weathering effect reduced. The optimum sawdust-palm kernel shell ratio within the range investigated was attained at the blending ratio of 50:50. The briquette had a compressed density of 0.84 g/cm
3
, a relaxed density of 0.48 g/cm
3
, a relaxation and compaction ratios of 1.76 and 1.41 respectively, a water resistance time of 4.09 h and a durability rating of 73.40 %. It was concluded that durable briquettes could be produced from a blend of sawdust and ground palm kernel shell.