01.03.2013 | Symposium: Environmental Damage in Structural Materials Under Static/Dynamic Loads at Ambient Temperature | Ausgabe 3/2013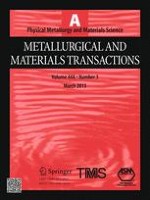 Evolution of Grain Boundary Precipitates in Al 7075 Upon Aging and Correlation with Stress Corrosion Cracking Behavior
Zeitschrift:
Autoren:

Ramasis Goswami, Stanley Lynch, N. J. Henry Holroyd, Steven P. Knight, Ronald L. Holtz
Wichtige Hinweise
Manuscript submitted February 16, 2012.
Abstract
Transmission electron microscopy (TEM) was employed to investigate the microchemistry and microstructure of grain boundary precipitates in Al 7075 aged at room temperature for several hours, at 393 K (120 °C) for 12 hours (under aged), at peak aged (T651) and over aged (T73) conditions. High resolution TEM analysis of precipitates at grain boundaries and fine probe energy dispersive spectrometry showed that the grain boundary precipitates at peak and over aged conditions are hexagonal η phase with stoichiometry Mg(Cu
x
Zn
1−

x
)
2
. Considerable increase in Cu content in the grain boundary η in the over aged condition compared to the peak aged condition was observed. The average Cu content in the over aged condition was found to be 20 at. pct. The higher Cu content of the precipitate is associated with a lower stress corrosion cracking plateau velocity.