18.07.2017 | Ausgabe 5/2017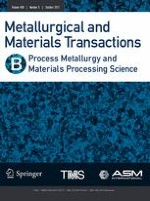 Evolution of Oxide Inclusions in Si-Mn Killed Steels During Hot-Rolling Process
Zeitschrift:
Autoren:

Wen Yang, Changbo Guo, Lifeng Zhang, Haitao Ling, Chao Li
Wichtige Hinweise
Manuscript submitted December 16, 2016.
Abstract
The evolution of oxide inclusions in Si-Mn killed steels refined by slags of different basicity during a four-pass industrial hot-rolling process was investigated using an automated microscopy system. High-basicity refining slag induced the formation of CaO- and Al2O3-containing inclusions, while refining slag with 0.8 basicity induced dominant inclusions of SiO2 and MnO-SiO2. CaO-SiO2-Al2O3 inclusions mainly formed endogenously during solidification and cooling of Ca-containing steels, where Ca originated from slag-steel reactions. However, the larger-sized higher-CaO inclusions originated from slag entrainment. Different inclusions presented different hot-rolling behaviors. The inclusion composition changed by deformation and new phase formation. The dominant oxide types were unchanged under refinement by low-basicity slag; however, they changed under refinement with high-basicity slag. The deformation index of inclusions decreased with increasing accumulated reduction (AR) of the steel. The difference in deformation index between different inclusion types was the largest in the first rolling stage and decreased in subsequent stages. SiO2-CaO and SiO2-MnO-CaO inclusions had larger deformation indices during hot rolling but smaller indices in the last two stages. High-basicity slag increased inclusion complexity; from the perspective of cold-drawing performance, low-basicity refining slag is better for the industrial production of tire-cord steels.