2019 | OriginalPaper | Buchkapitel
26. Ex Situ Conservation of Forest Genetic Resources in Greece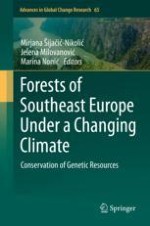 Erstes Kapitel lesen
Autoren: Paraskevi G. Alizoti, Filippos A. Aravanopoulos, Kostas Ioannidis
Abstract
Hellenic ecosystems are biodiversity hotspots, as they harbor 22% of the species found across the Mediterranean basin, while 10% of the plants occurring in them are endemic. Forest tree species are keystone species of the forest ecosystems that harbor a great part of the above mentioned biodiversity and for this reason the conservation of their genetic resources should be an ultimate goal.
In situ
conservation of forest genetic resources is applied intensively at the global, regional and national level,
ex situ
conservation though can be proved of unique value in the case of rare, endemic, threatened species or populations of widely distributed species that could be eliminated due to stochastic events, biotic or abiotic stresses.
Ex situ
can be either static or dynamic. The
static
ex situ
conservation plantations (i.e. seed orchards, provenance and provenance-progeny tests) established in Greece will be presented, as well as the potential for long-term seed storage. The reported plantations were established in the framework of breeding programs carried out by two organizations; namely the Aristotle University of Thessaloniki (Laboratory of Forest Genetics and Tree Improvement) and the Institute of Mediterranean and Forest Ecosystems (IMFE – Laboratory of Silviculture, Forest Genetics and Biotechnology).