01.04.2015 | Original Paper | Ausgabe 4-6/2015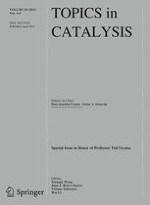 EXAFS Characterization of Palladium-on-Gold Catalysts Before and After Glycerol Oxidation
Zeitschrift:
Autoren:

Zhun Zhao, Jeffrey T. Miller, Tianpin Wu, Neil M. Schweitzer, Michael S. Wong
Wichtige Hinweise
Electronic supplementary material
The online version of this article (doi:
10.​1007/​s11244-015-0371-3
) contains supplementary material, which is available to authorized users.
Abstract
Supported precious metal catalysts have been studied extensively for selective oxidation as a means to upgrade glycerol, a low-cost byproduct of biodiesel manufacture. We recently used a model bimetallic catalyst (Au nanoparticles decorated with Pd and immobilized onto carbon, "Pd-on-Au/C") to study the metal nanostructure effects on glycerol oxidation. In this study, a detailed X-ray absorption spectroscopy analysis of Pd-on-Au catalysts before and after glycerol oxidation (60 °C, 0.1 M glycerol, 0.4 M NaOH, and constant O2 flow at 1 atm) is presented. Catalysts with two Pd surface coverages (60 and 150 sc%) with comparable turnover frequency values were studied, along with the less active 4-nm Au/C and 4-nm Pd/C as control samples. Extended X-ray absorption fine structure analysis showed that there was no change to oxidation states and coordination numbers for 60 sc% Pd-on-Au/C and Au/C catalysts after contact with the glycerol reaction medium or after 3 h of glycerol reaction. With a higher fraction of oxidized Pd (~40 %) than 60 sc% Pd-on-Au/C (~25 %), the 150 sc% catalyst showed some variation in oxidized Pd content before and after glycerol reaction. Pd/C grew in Pd particle size and became more oxidized after contacting reaction medium and after 3 h reaction, contributing to its observed catalyst deactivation. Structural stability and catalytic activity are improved for the water-phase oxidation of glycerol and likely other alcohols when Pd is supported on Au, highlighting the potential advantages of using Au as a support for other catalytically active metals.