23.05.2017 | Ausgabe 5/2017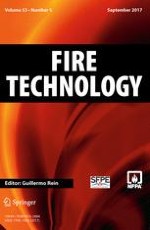 Examination of WFDS in Modeling Spreading Fires in a Furniture Calorimeter
Zeitschrift:
Autoren:

Y. Perez-Ramirez, W. E. Mell, P. A. Santoni, J. B. Tramoni, F. Bosseur
Abstract
Validation of physics-based models of fire behavior requires comparing systematically and objectively simulated results and experimental observations in different scenarios, conditions and scales. Heat Release Rate (HRR) is a key parameter for understanding combustion processes in vegetation fires and a main output data of physics-based models. This paper addresses the validation of the Wildland-urban interface Fire Dynamics Simulator (WFDS) through the comparison of predicted and measured values of HRR from spreading fires in a furniture calorimeter. Experimental fuel beds were made up of
Pinus pinaster
needles and three different fuel loadings (i.e. 0.6, 0.9 and 1.2 kg/m
2
) were tested under no-slope and up-slope conditions (20°). An Arrhenius type model for solid-phase degradation including char oxidation was implemented in WFDS. To ensure the same experimental and numerical conditions, sensitivity analyses were carried out in order to determine the grid resolution to capture the flow dynamics within the hood of the experimental device and to assess the grid resolution's influence on the outputs of the model. The comparison of experimental and predicted HRR values showed that WFDS calculates accurately the mean HRR values during the steady-state of fire propagation. It also reproduces correctly the duration of the flaming combustion phase, which is directly tied to the fire rate of spread.