28.02.2017 | Original Article | Ausgabe 2/2017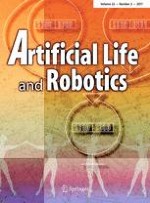 Examining efficient instructional methods for computer-aided brush coating skill training system in elementary and secondary education
Zeitschrift:
Autoren:

Nobuto Fujimoto, Shimpei Matsumoto, Masaru Teranishi, Hidetoshi Takeno, Tatsushi Tokuyasu
Wichtige Hinweise
This work was presented in part at the 21st International Symposium on Artificial Life and Robotics, Beppu, Oita, January 20–22, 2016.
Abstract
In recent Japan, many elementary and secondary school children strongly feel an awareness of resistance toward manufacturing class. It is considered as one of the aversion causes to science and engineering. We suspect that the shortage of teacher's manufacturing experience is related to this background. So, the authors previously have developed a brush coating skill training system with a haptic device to improve the ability. In the skill training, historically, the instruction method while reproducing the video of trainee's action has been considered to be effective. Thus, our developed system includes a software system to visualize the brush coating motion. This software system can record trainee's brush coating motion and visualize the data in virtual three-dimensional space, so the advisor and the trainee can share his/her skill level and the wrong motion such as extra shaking and tilt by reproducing his/her past training data on a computer screen. In this paper, to improve the learning effectiveness of our brush coating skill training system, some kinds of instructional methods are designed, and the difference of the instructional methods is analyzed based on the proposed criteria. This paper performed some experiments with 10 college students who have less experience of brush coating. From the analysis results, the most effective instruction method was clarified.