01.12.2009 | Ausgabe 4/2009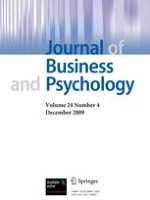 Examining the Role of Applicant Faking in Hiring Decisions: Percentage of Fakers Hired and Hiring Discrepancies in Single- and Multiple-Predictor Selection
Zeitschrift:
Autoren:

Mitchell H. Peterson, Richard L. Griffith, Patrick D. Converse
Wichtige Hinweise
Received and reviewed by former editor, George Neuman.
Abstract
Purpose
The purpose of this study was to examine the impact of applicant faking on personnel selection outcomes (fakers hired and hiring discrepancies) across single-predictor (conscientiousness alone) and multiple-predictor (combinations of conscientiousness and cognitive ability) selection methods.
Design/Methodology/Approach
Applicant faking was measured using a within-subjects design in which participants completed a conscientiousness measure both under the assumption that they were applying for a job and under honest response instructions. The two selection outcomes (fakers hired and hiring discrepancies) were compared across single- and multiple-predictor scenarios.
Findings
Our results indicated that the combinations of conscientiousness and cognitive ability resulted in as much as a 13.50% reduction in hiring fakers (compared to a conscientiousness measure alone); however, most of these differences were not statistically significant. The use of cognitive ability–conscientiousness combinations did, however, result in significant reductions in hiring discrepancies.
Implications
The primary implication of the present study is that while the use of multiple predictors is effective in reducing the impact of faking on hiring discrepancies over the use of a personality measure alone, this reduction may not be large enough to eliminate concern over the occurrence of faking.
Originality/Value
Most research investigating potential negative effects of applicant faking has focused solely on single-predictor selection scenarios. However, personality measures rarely serve as the sole basis for hiring decisions. The present study sheds light on the impact of faking on selection outcomes when more than one predictor variable plays a role in hiring decisions.