2017 | OriginalPaper | Buchkapitel
Experiences, Success Stories, and Lessons Learnt from the Implementation of the Water Law Framework Directive in the Souss-Massa River Basin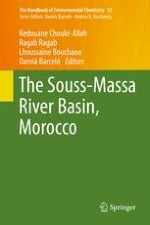 Erstes Kapitel lesen
Autoren: E. El Mahdad, L. Ouhajou, M. El Fasskaoui, A. Aslikh, A. Nghira, F. Fdil, A. Baroud, D. Barceló
Abstract
By its transitional location between the Mediterranean and Saharan environment and its opening on the Atlantic, the Souss basin represents a specific hydraulic space across Morocco and the Maghreb countries. Its limited water resources formed through the phases of the long history of Morocco a real support to help the building of the foundations of the Moroccan hydraulic civilization. The authors of this chapter of varied specialties and belonging to different institutions relevant to water present from their experiences a synthesis of good practice in water planning and management in Souss basin.
The surveyed subjects concern the contributions of the new water law and the need for its renewal for a better adaptation to space and society developments, the implementation and evaluation of the operation of the hydraulic basin Agency, the ingrained hydraulic prospective in the basin level, and its transition from a sector planning to integrated planning.
Other current issues are discussed. It concerns participatory management of water that presents a promising approach at the local and national levels, the advanced state of resources development which has just reached the desalination of seawater for population supply and irrigation, and attempts of widespread access to water between state intervention and local initiative. Also, the aspects of the conservation of natural sites and actions to reduce water excess as the risk of flooding were analyzed.
At the end of this chapter, the international dimension of planning, development, and management of water is discussed. Souss basin has benefited from many water projects in the framework of cooperation between Morocco and foreign partners.