01.03.2015 | Original Article | Ausgabe 1/2015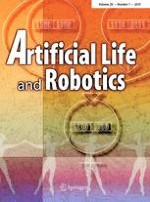 Experiment on a dual-arm underwater robot using resolved acceleration control method
Zeitschrift:
Autoren:

Radzi Bin Ambar, Shinichi Sagara, Kenichi Imaike
Wichtige Hinweise
This work was presented in part at the 19th International Symposium on Artificial Life and Robotics, Beppu, Oita, January 22–24, 2014.
Abstract
An underwater vehicle-manipulator system (UVMS) is an underwater robot equipped with one or more robotic arms. Various research studies have been focusing on the development of single-arm UVMS. To increase the efficiency and dexterity of underwater robotic manipulation, multiple-arm UVMS is a much better option than a single-arm UVMS. However, the installation of robotic arms can create challenging control issues due to the coupling effects of the robot body and robotic arms. Hence, in our previous work, we have proposed a resolved acceleration control (RAC) method to control a dual-arm UVMS. The proposed method enables coordinated control between both robotic arms and vehicle by considering the effects of hydrodynamic forces. In this paper, the mechanical design of a 2-link manipulator is described. Furthermore, experiment results demonstrating the effectiveness of the proposed RAC method on a 2-link dual-arm UVMS is presented. In the experiment, both end-tips were controlled to move to desired positions along straight paths in a horizontal plane. At the same time, the desired position and attitude of the robot vehicle were similar to the initial values. The results show that although there were substantial movements on the position and attitude of the vehicle, the proposed method was able to effectively control the movements of the end-tips to reach the desired positions by significantly reducing the influence of modelling errors of hydrodynamic forces using the position, attitude and velocity feedback of UVMS.