30.06.2018 | Ausgabe 10/2018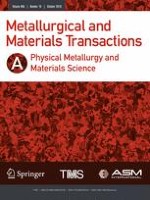 Experimental and Numerical Investigations on Interdiffusion Profiles in Compounds Produced by Sinter-Cladding
Zeitschrift:
Autoren:

M. Blüm, W. Theisen, S. Weber
Wichtige Hinweise
Manuscript submitted February 7, 2018.
Abstract
Tools used for mineral processing applications are affected by strong abrasive wear and high dynamic loads. This results in opposing demands on the mechanical properties of these tools. Therefore, modern concepts for the manufacturing of mineral processing tools include a composite tool concept consisting of a low-alloyed substrate and a high-alloyed, wear-resistant cladding material. These coatings can be applied using different production processes such as composite casting, deposit welding, and HIP cladding. During the deposition of the cladding, interdiffusion between the substrate and cladding material occurs. This interdiffusion may have a negative impact on the compound, since characteristics such as wear resistance, mechanical properties, and the local microstructure are influenced. This article is focused on the investigation and simulation of interdiffusion processes in supersolidus-sintered compounds using computational thermodynamics, diffusion calculations, optical emission spectrometry, hardness profiles, and microstructural investigations. It is shown that the interdiffusion processes between the solid substrate and the semisolid cladding can be simulated using a dispersed phase model to give results with a close concordance to optical emission spectrometry measurements.