01.06.2015 | Original Paper | Ausgabe 3/2015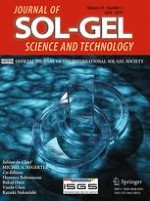 Experimental and theoretical investigations of structural and optical properties of copper doped ZnO nanorods
Zeitschrift:
Autoren:

Mohua Chakraborty, Anima Ghosh, R. Thangavel
Abstract
We report on structural and optical properties of undoped and Cu-doped ZnO nanorods on glass substrates by sol–gel and hydrothermal method. The grown thin film nanorods samples were characterized by X-ray diffraction, field emission scanning electron microscopy (FESEM) and UV visible spectroscopy. The XRD and FESEM reveal that grown nanorods have hexagonal wurtzite structure along the
c
-axis. The UV–Vis absorption spectra for all samples displayed a band gap absorption peak at about 365 nm. The band gap value has decreased since 5 and 10 % doped ZnO indicates a red shift in comparison with undoped ZnO and 15 and 20 % doping concentration shows blue shift compared with lower doping. However, with doping, a decrease in the band gap value of undoped sample was observed by indicating a red shift of fundamental absorption edge. Photoluminescence spectra of the nanorod arrays samples show that a higher concentration of Cu exhibited a 61.82 % increased I
UV
/I
DLE
ratio compared with undoped samples. Oxygen insufficiencies were reduced with doped samples. Cu doping diminishes the recombination of electrons and holes by bonding with electrons in singly ionized oxygen vacancies. As a result, green emission was abridged, and the optical properties have improved with Cu incorporated in host lattice. The observed experimental band gap value was tuned from 3.21 eV (ZnO) to 3.07 eV (Zn
0.9
Cu
0.1
O), which was closer to the theoretical band gap values confirmed by first principle calculations that combined generalized gradient approximation with included scissor operator.
Graphical abstract
The undoped and doped ZnO nanorods were grown by sol–gel and hydrothermal synthesis method.

The grown nanorods were vertically well aligned and very dense hexagonal array.

Our experimental and simulation studies revealed red shift in absorption edge and the band gap narrowing with Cu doping.

PL spectra depicted ZnO nanorods would be reasonably useful for UV emission device and PEC devices.
×