25.07.2017 | Invited Paper: Nano- and macroporous materials (aerogels, xerogels, cryogels, etc.) | Ausgabe 3/2017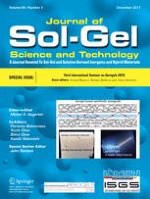 Experimental and thermodynamic comparison of the separation of CO2/toluene and CO2/tetralin mixtures in the process of organogel supercritical drying for aerogels production
Zeitschrift:
Autoren:

Mouna Lazrag, Edouard Steiner, Cécile Lemaitre, Fabrice Mutelet, Romain Privat, Sabine Rode, Ahmed Hannachi, Danielle Barth
Abstract
An organogel is firstly prepared by synthesizing an aminoacid-type organogelator which is able to immobilize aromatic solvents, such as tetralin or toluene. Aerogels are obtained from organogels by extracting the solvent with a stream of supercritical CO2 in an autoclave. The CO2/solvent mixture leaving the autoclave is separated in a cascade of three cyclone separators. The experimental results showed a good solvent recovery rate in the case of tetralin, exceeding 90%, but an unsatisfactory separation for toluene with a yield below 65%. A thermodynamic study was carried out to model the separation for both solvents. The Peng–Robinson equation of state with van der Waals mixing rules and temperature-dependent binary interaction coefficients was selected to predict the CO2/solvent thermodynamic behavior. Measurements of isothermal bubble points of the CO2/tetralin system were conducted using a high-pressure variable-volume visual cell confirming the relevancy of this model. Then, the first separator was simulated as a simple theoretical equilibrium stage. Simulations using PRO/II software were in good agreement with experimental solvent recovery rate for both toluene and tetralin. The best operating pressure and temperature for the separation were computed by a numerical parametric study.
Graphical abstract
Thermodynamic study to explain theoretical recovery in organogel supercritical drying: comparison between two solvents (T=20 °C, P=50 bar).