01.03.2011 | Symposium: Structural Transitions and Local Deformation Processes at and near Grain Boundaries | Ausgabe 3/2011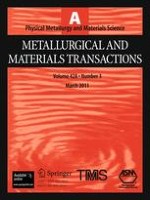 Experimental Characterization and Crystal Plasticity Modeling of Heterogeneous Deformation in Polycrystalline
α

-Ti
Zeitschrift:
Autoren:

L. Wang, R.I. Barabash, Y. Yang, T.R. Bieler, M.A. Crimp, P. Eisenlohr, W. Liu, G.E. Ice
Wichtige Hinweise
Manuscript submitted January 21, 2010.
Abstract
Grain-level heterogeneous deformation was studied in a polycrystalline
α
-Ti specimen deformed by four-point bending. Dislocation slip activity in the microstructure was investigated by surface slip trace analysis. Three-dimensional–X-ray diffraction (3D-XRD) was used to investigate subsurface lattice rotations and to identify geometrically necessary dislocations (GNDs). The slip systems of local GNDs were analyzed by studying the streaking directions of reflections in corresponding Laue patterns. The analysis performed in one grain indicated that the subsurface GNDs were from the same slip system identified using slip trace analysis in backscattered electron images. A crystal plasticity finite element (CPFE) model was used to simulate deformation of the same microstructural region. The predictions of dislocation slip activity match the general aspects of the experimental observations, including the ability to simulate the activation of different slip systems in grains where multiple slip systems were activated. Prediction of local crystal rotations, however, was the least accurate aspect of the CPFE model.