12.05.2020 | Research Article-Mechanical Engineering | Ausgabe 7/2020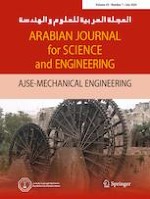 Experimental Characterization of Dimensional and Surface Alternation of Straight and Angular Cutting on Self-lubricating Composite: A Wire EDM Approach
Zeitschrift:
Autoren:

A. Gnanavelbabu, K. Rajkumar
Abstract
Demands on better control over the kerf dimension deviation, surface roughness, and corner accuracy are now on the increase for the two-piece aluminum metal composite mold tools. In this investigation, straight and triangular profile cuts attempted with wire electrical discharge machining (WEDM) on the aluminum 6061 self-lubricating composite-reinforced boron carbide (5–15 vol%) and hexagonal boron nitride particles (10 vol% hBN) fabricated using a stir casting method. Rational video measurement showed an increase in B
4
C particles reduces kerf width dimension deviation only at
T
ON
,
T
OFF
and gap voltage (
V
) parameters. Optical microscope measurement showed an increase in the corner area inaccuracy increases with both low and high pulse-on duration conditions caused by insufficient material removal and a high order of erosion, respectively. There was a large reduction in corner area inaccuracy with increasing wire feed rate. Surface characteristics were examined using a scanning electron microscope (SEM) and XRD to enable observation of the structural damages and recast layers. Composite with 5% boron carbide showed a re-deposition layer over the machined surface, whereas 15% boron carbide composite went through uneven erosion causing the formation of craters and pits on the cutting surface resulting in higher surface roughness.