18.09.2017 | Ausgabe 2/2018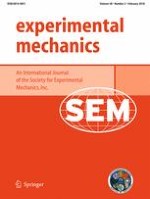 Experimental investigation of the coupled magneto-mechanical response in magnetorheological elastomers
Zeitschrift:
Autoren:

L. Bodelot, J.-P. Voropaieff, T. Pössinger
Wichtige Hinweise
Electronic supplementary material
Abstract
Magnetorheological elastomers (MREs) are materials made of a soft elastomer matrix filled with magnetizable particles. These flexible composites that deform in response to an externally applied magnetic field are of special interest in advanced engineering applications such as actuators, artificial muscles or shape control. However, no systematic characterization of their coupled response has been undertaken so far, thus limiting the efficient design of MRE-based devices. In this study, we propose a framework—relying on both specially designed samples and a dedicated experimental setup—to characterize experimentally the coupled magneto-mechanical response of MREs since magnetization within the sample is nearly uniform and structural-dependent effects are minimized. The influence of particle content and arrangement within the composite are particularly studied and the corresponding experimental results give some insight into the underlying microstructural mechanisms that are responsible for the macroscopic deformation of MREs under combined magnetic and mechanical loading conditions. Such data is crucial for the design of new MRE composite materials in which the microstructure is optimized (to have the largest coupling effect with minimal energy input).