18.01.2021 | Ausgabe 1/2021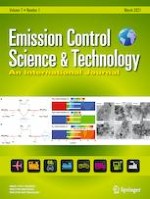 Experimental Investigation of the Effect of Pore Size Distribution on Nano-particle Capture Efficiency Within Ceramic Particulate Filters
Zeitschrift:
Autoren:

Sandeep Viswanathan, Mark L Stewart, David A Rothamer
Wichtige Hinweise
Publisher's Note
Springer Nature remains neutral with regard to jurisdictional claims in published maps and institutional affiliations.
Abstract
The effect of the pore size distribution on size-resolved filtration efficiency was investigated for two ceramic particulate filters using particulate matter (PM) generated by a spark-ignition direct-injection engine fueled with gasoline. The cordierite filter tested had a porosity of 43%, a median pore diameter of 12 μm, and a wide pore size distribution with a lognormal standard deviation (σ′) of 0.4. The aluminum titanate filter had very similar porosity, median pore diameter, and thickness, but significantly narrower pore size distribution (
σ
′ = 0.1). The testing of two filters under identical experimental conditions enabled the impact of the pore size distribution on filtration performance to be evaluated. Filtration experiments were performed focusing on just the filter wall, starting from a clean filter until the transition to cake filtration (filtration efficiency > 99%). Time-resolved particle size distribution measurements were used to evaluate the progression of filtration performance and estimate trapped mass within the filter. The aluminum titanate filter, with a narrow pore size distribution, exhibited significantly better diffusion capture efficiency. The negative impact of higher flow velocity on diffusion capture efficiency was more pronounced for a narrower pore size distribution. Flow distributions measured using capillary flow porometry were used to develop a cylindrical pore flow model to understand the impact of the differences in pore size distribution on observed trends in diffusion capture efficiency within a clean filter. The model predicted a larger impact of superficial velocity on capture efficiency for filters with narrower pore size distributions as seen from the experiments. The experimental results and data demonstrate that the bubble point diameter and width of the pore size distribution significantly influence diffusion capture efficiencies for filters with very similar median pore diameter, porosity, and thickness.