04.11.2019 | Research Article - Civil Engineering | Ausgabe 5/2020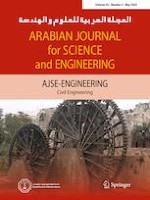 Experimental Investigations of End Bearing Anchors Under Uplift Load Using Transparent Soil and Numerical Simulation
Zeitschrift:
Autoren:

Chen Chen, Yuan-you Xia, Chun-qing Li, Qing Ni
Abstract
This paper presents a series of small-scale physical model tests, using transparent soil and particle image velocimetry technique. The soil displacements, anchor load and displacement responses were measured directly from the tests. Based on the results, the anchor's ultimate uplift load, impact area within the surrounding soil and failure mechanism of the anchor system were studied. Furthermore, numerical investigation was also carried out to study the effect of shoulder sizes on the ultimate uplift bearing capacity. It was observed that the fracture surface formed at the shoulder was convex and bullet-shaped. The analysis of results showed that the ultimate uplift bearing capacity of end bearing anchors was affected by enlargement diameter (
D
), shaft diameter (
d
) and enlargement segment length (
L
), especially with the enlargement shoulder dimension (
D
 − 
d
). The model tests and numerical simulation results were compared with equations from the British and Chinese standards. When (
D
 − 
d
)/
L
 ≥ 0.2, Chinese standard was more suitable, and when (
D
 − 
d
)/
L
 < 0.2, British standard performed better. Finally, the effect of varying shoulder sizes and enlargement lengths were discussed, and some suggestions for better design of end bearing anchor were proposed to improve the anchorage efficiency.