01.12.2016 | Original Article | Ausgabe 4/2016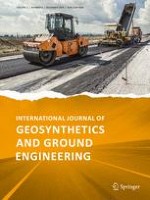 Experimental Investigations on Biological Resistance of Surface Modified Coir Geotextiles
Autoren:

S. Sumi, N. Unnikrishnan, Lea Mathew
Abstract
Results of detailed experimental studies carried out to investigate the resistance of coir geotextiles modified using cashew nut shell liquid (CNSL) to attack of biological organisms are reported. A mixed spore suspension composed of four fungal stains,
Chaetomium indicum
,
Curvularia lunata
,
Aspergillus fumigatus
and
Penicillium rubrum
was used to study microbial susceptibility of coir geotextiles in humid warm atmosphere. Soil burial studies were carried out under controlled conditions for a period of 240 days to learn the behaviour of geotextiles in contact with specially prepared soil containing a variety of microorganisms. A field study was carried out to investigate the behaviour of coir geotextiles in subterranean termite mounds. The improved properties of modified coir geotextiles were substantiated on the basis of weight loss, moisture absorption, tensile strength and surface morphology. The results show that biological resistance of coir geotextiles was greatly improved by modification with CNSL. Tensile strength of unmodified samples reduced to 19 % whereas modified geotextiles retained 76 % of the initial tensile strength at the end of 240 days of soil burial. SEM images affirm that modification of coir with CNSL obtained in the present work could close the pores on fibre surface and delay biological degradation considerably.