01.01.2015 | Ausgabe 1/2015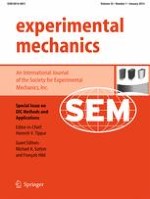 Experimental Methodology for Studying Strain Heterogeneity with Microstructural Data from High Temperature Deformation
Zeitschrift:
Autoren:

Garrett J. Pataky, Huseyin Sehitoglu
Abstract
An experimental methodology has been developed to study materials deformed at high temperatures using high resolution
ex situ
digital image correlation (DIC). This study is an advancement of techniques that have used sub-grain level strain measurements and linked them to microstructural data obtained with electron back-scatter diffraction (EBSD). The approach utilized air blasting particles that were capable of remaining unchanged onto a sample surface and loading the sample at elevated temperatures in vacuum to prevent oxidation. Two tensile experiments were performed at temperatures of 700 and 800 °C on Haynes 230 (a nickel-based superalloy) using DIC at high magnifications in order to study the heterogeneous strain fields. Overlaying the strain fields and microstructure data, global trends and areas of high strain were studied. The strain evolution at these areas was compared to the mean strain accumulation. This study represents an advancement of the usefulness of high resolution DIC by expanding the loading conditions that can be studied and provided experimental results to prove the feasibility.