08.04.2019 | Ausgabe 4/2019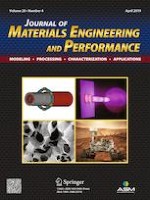 Experimental Research on Tensile Behavior of Advanced High-Strength Steel DP600 at High Strain Rate
Zeitschrift:
Autoren:

Junrui Xu, Dong Cao, Junjia Cui, Xu Zhang, Guangyao Li
Wichtige Hinweise
Publisher's Note
Springer Nature remains neutral with regard to jurisdictional claims in published maps and institutional affiliations.
Abstract
We conducted a series of experimental investigations on the mechanical properties of DP600 dual-phase steel under strain rates from 0.001 to 3000 s−1 at room temperature. A split Hopkinson tensile bar was used to capture a high strain rate response. A comparison of the quasi-static and dynamic experiment results showed that the yield strength and ultimate tensile strength increased significantly under dynamic conditions. Fractographs were analyzed by scanning electron microscopy, which indicated a better ductility at a high strain rate. Based on the experimental results, the Johnson–Cook constitutive model was applied to describe the tensile deformation behavior under various strain rates. A reasonable agreement was observed between the experimental data and the Johnson–Cook model. A metallographic analysis of tensile specimens showed that the average ferritic grain size of the fractured specimens at a high strain rate was smaller than that of the fractured specimens under quasi-static conditions. Ferritic grain refinement proved that high-speed forming could enhance the forming ability of the DP600 steel.