01.08.2014 | Technical Paper | Ausgabe 8-9/2014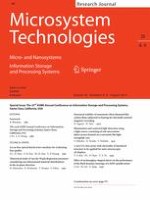 Experimental set-up for simultaneously measuring changes in LD temperature and flying height of HAMR-HGA
Zeitschrift:
Autoren:

Irizo Naniwa, Shigeo Nakamura
Wichtige Hinweise
ISPS'13—23rd Annual ASME Conference on Information Storage and Processing Systems, June 24 and 25, 2013 at Santa Clara University, Santa Clara, CA, USA.
Abstract
Heat-assisted magnetic recording (HAMR) is a promising technology for overcoming the performance limit of the conventional magnetic head in a hard disk drive. The HAMR-HGA consists of a HAMR-head slider, a suspension, and a laser diode (LD) mounted on the slider. An optical near-field transducer (NFT) and a waveguide are near the write-pole in the head slider. During the HAMR process, current is applied to an LD, and the laser beam is coupled into the waveguide and delivered to the NFT. The NFT further concentrate the focused optical spot and the optical spot locally heats the recording medium, thereby reducing the media coercivity. The temperature of the LD and the slider, however, increases. The slider is, moreover, locally deformed, and the flying-height (FH) changes. Therefore, an experimental set-up to simultaneously evaluate the FH change and LD temperature of the HAMR-HGA was required to develop the HAMR technology. We developed a novel experimental set-up for simultaneously evaluating laser characteristics (power, voltage, and wavelength), the increase in LD temperature, and the FH change of a HAMR-HGA. By using this set-up to measure these characteristics of our prototype, the HAMR-HGA showed that the FH decreased as the LD temperature increased. The LD temperature is directly related to the laser characteristics. The change in laser characteristics affects the read-write performance of HAMR. The FH change also affects the performance. Therefore, the developed experimental set-up should be useful in improving HAMR-HGA.