09.01.2017 | Ausgabe 2/2017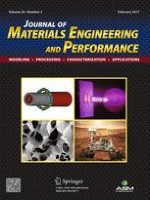 Experimental Study on Creep Characterization and Lifetime Estimation of RPV Material at 723-1023 K
Zeitschrift:
Autoren:

Lin-Jun Xie, Dong Ning, Yi-zhong Yang
During the plant operation, nuclear reactor pressure vessel (RPV) is the most critical pressure boundary component for integrity and safety in a light-water reactor. In this paper, the creep behavior and properties for RPV metallic material are studied by conducting constant-temperature and constant-load creep tests at 723, 823, 923 and 1023 K. The
θ
projection constitutive model was established based on a creep method to describe the high-temperature creep behavior of RPV material. The material parameter
θ
would be obtained based on experimental data by depending on numerical optimization techniques. The relationship between and among
θ
,
T
and
σ
was evaluated, and the coefficients
a
i
,
b
i
,
c
i
and
d
i
were obtained. Based on the short-term tests at a high temperature, the values for long-term creep data could be predicted in accordance with parameter
θ
. Moreover, rupture life, the minimum creep rate and the time reaching to an arbitrary strain can be calculated and may be used to evaluate the damage behavior and properties, so as to be used as a reference for design and safety assessment.