30.06.2018 | Original Paper | Ausgabe 11/2018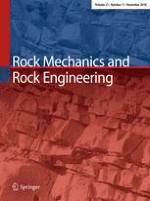 Experimental Study on the Damage Evolution of Brittle Rock Under Triaxial Confinement with Full Circumferential Strain Control
Zeitschrift:
Autoren:

Thomas Bruning, Murat Karakus, Giang D. Nguyen, David Goodchild
Wichtige Hinweise
Publisher's Note
Springer Nature remains neutral with regard to jurisdictional claims in published maps and institutional affiliations.
Abstract
The identification of crack stress thresholds and damage evolution from circumferential strain control triaxial tests are presented in this paper. As underground excavations become deeper to exploit mineral resources or construct civil projects, it has become increasingly important to determine the full stress–strain and damage evolution behaviours of brittle rock. Therefore, post-peak reaction of Class II rock or 'snap-back' behaviour must be captured to show the response of the material under self-sustaining failure. To investigate this, a series of triaxial compression tests were carried out for a granite sourced from over 1000 m depth. The tests were controlled using the feedback of lateral strain gauges attached to the Hoek cell membrane, to allow for constant, slow dilation of the specimen. The test results were then input to existing methods along with two new techniques, to identify the crack stress thresholds of crack closure, crack initiation and damage. It was found that although the crack closure threshold is comparable for axial and lateral control testing, the crack initiation and damage thresholds are significantly higher for the tests conducted in this study compared to most existing research. This result highlights the importance of the circumferential strain control method in triaxial tests when determining the post-peak behaviour and damage evolution of brittle rock. This was made easier with the strain gauged membrane proposed in this study, which provides reliable measurements throughout the duration of rock testing. Therefore, full stress–strain and damage evolution data can be obtained for use in damage-plasticity constitutive models.