01.08.2014 | Ausgabe 4/2014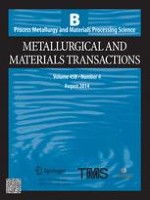 Experimental Verification of the Thermodynamics of Critical Aspects of the Carbothermic Reduction of Alumina. Part II: Thermogravimetric Study of the Reaction of Al2O3–C Mixtures and the Al2O3–Al4C3 Phase Diagram
Zeitschrift:
Autoren:

Matthew S. Walker, Richard J. Fruehan
Wichtige Hinweise
Manuscript submitted December 9, 2013.
Abstract
The thermodynamics of several aspects of the carbothermic reduction of alumina have been examined. In Part I, the results of measuring the evolved CO from the reaction between Al2O3 and C mixtures were used to determine the temperature and carbon contents for carbide formation at alumina saturation and at carbide saturation in the Al2O3–Al4C3 system. In this part of the paper, results are presented for a thermogravimetric study of the reactions of Al2O3 with carbon, as well as those for the determination of the Al2O3 liquidus line and the Al2O3–Al4O4C eutectic in the Al2O3–Al4C3 phase diagram. The critical temperature for Al2O3 and C to react, producing gas at 1 atm., was in agreement with that predicted from thermodynamics and measured in Part I of this paper. However, the Al2O3 liquidus appeared to be steeper and the eutectic temperature lower than the predicted phase diagram.