2018 | OriginalPaper | Buchkapitel
Exploiting Context Graph Attention for POI Recommendation in Location-Based Social Networks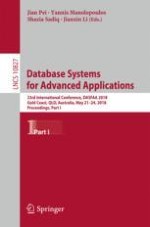 Erstes Kapitel lesen
Autoren: Siyuan Zhang, Hong Cheng
Abstract
The prevalence of mobile devices and the increasing popularity of location-based social networks (LBSNs) generate a large volume of user mobility data. As a result, POI recommendation systems, which play a vital role in connecting users and POIs, have received extensive attention from both research and industry communities in the past few years. The challenges of POI recommendation come from the very sparse user check-in records with only positive feedback and how to integrate heterogeneous information of users and POIs. The state-of-the-art methods usually exploit the social influence from friends and geographical influence from neighboring POIs for recommendation. However, there are two drawbacks that hinder their performance. First, they cannot model the different degree of influence from different friends to a user. Second, they ignore the user check-ins as context information for preference modeling in the collaborative filtering framework.
To address the limitations of existing methods, we propose a
Context Graph Attention
(CGA) model, which can integrate context information encoded in different context graphs with the attention mechanism for POI recommendation. CGA first uses two context-aware attention networks to learn the influence weights of different friends and neighboring POIs respectively. At the same time, it applies a dual attention network, which considers the mutual influence of context POIs for a user and the context users for a POI, to learn the influence weights of different context vertices in the user-POI context graph. A multi-layer perceptron integrates the context vectors of users and POIs for estimating the visiting probability of a user to a POI. To the best of our knowledge, this is the first work that applies the attention mechanism for POI recommendation. Extensive experiments on two public check-in data sets show that CGA can outperform the state-of-the-art methods as well as other attentive collaborative filtering methods substantially.