02.02.2019 | Invited Paper | Ausgabe 3/2019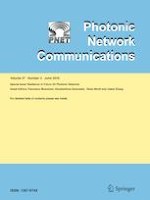 Exploiting efficiency of ultra-dense wavelength switched network for carrying metro network traffic
Zeitschrift:
Autoren:

Ya Zhang, Xu Zhou, Ning Deng, Sanjay K. Bose, Gangxiang Shen
Wichtige Hinweise
Part of the work was presented in [
1
]. This work was jointly supported by the Project (YBN2016050116) with Huawei Technologies Co, National Natural Science Foundation of China (NSFC) (61671313), and the Science and Technology Achievement Transformation Project of Jiangsu Province, PR China (BA2016123).
Abstract
In the 5G era, metro optical networks would need to meet more stringent quality of service requirements. They would have to operate with high spectral efficiency but with low latency and low power consumption. For this, we introduced a new paradigm based on the elastic optical network, called ultra-dense wavelength switched network (UD-WSN) in Zhang et al. (Proceedings of the Asia Communications and Photonics Conference,
2016
), Shen et al. (EEE Commun Mag 56(2):189–195,
2017
), and Zhou et al. (IEEE/OSA J Lightw Technol 35(11):2063–2069,
2016
). UD-WSN was verified to be efficient in terms of system cost, spectrum efficiency, power consumption, and service connection latency when compared to other popular architectures, such as pure optical transport networks (OTN) and conventional OTN over dense wavelength division multiplexing networks. This motivates us to explore further enhancements to UD-WSN in this paper for even better performance. Specifically, we consider a UD-WSN architecture without aggregation OTN switches to evaluate how the system cost can be reduced further by trading off the system performance. We also propose to implement partial OTN switching within the UD-WSN to exploit the benefit of traffic grooming to lower the system cost even further. Finally, we also implement spectrum defragmentation to improve the spectrum utilization of the system. These schemes are studied through simulations to verify their effectiveness.