01.04.2015 | Ausgabe 3/2015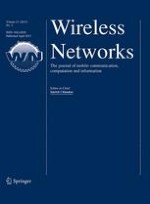 Exploring an energy-efficient DTN framework supporting disaster management services in post disaster relief operation
Zeitschrift:
Autoren:

Suman Bhattacharjee, Siuli Roy, Somprakash Bandyopadhyay
Abstract
In recent years, several investigations have been made on "
challenged network
" [also known as, delay tolerant network (DTN)] architectures highlighting their advantages and disadvantages. In spite of its inherent shortcomings of unreliability and delay, smart-phone based opportunistic network is gaining immense popularity in the research community due to its applicability in different adverse and extreme communication scenarios where traditional communication infrastructure is either unavailable or incapacitated for a long time. Considerable research has been conducted till date to design efficient network architecture for emergency data dissemination in intermittently connected/challenged networks. Different architectures (ranging from flat to multi-tier) are proposed for implementing opportunistic DTN keeping in view of specific application requirements. However, very few of these proposed architectures have been examined from the perspective of a post disaster communication. Moreover, most DTN architectures are designed by aiming towards increasing delivery probability and reducing latency and as a whole, maximizing network throughput; with very little emphasis on its energy efficiency. The impact of different mobility patterns on existing DTN routing algorithms with respect to data dissemination and energy consumption has also not been studied so far. Our objective, in this paper, is to investigate the impact of different mobility patterns on existing DTN routing protocols and existing DTN architectures and subsequently, come up with a suitable energy efficient DTN framework combining suitable architecture and routing protocol that may be used to offer different disaster management services during post-disaster relief operation. We have done an extensive simulation on ONE simulator with different categories of well-known existing DTN architectures, mobility models, DTN routing protocols to study the network performance in terms of delivery probability, energy efficiency and overhead ratio. Based on the simulation results, we have tried to figure out a suitable combination of energy efficient architecture, mobility model and routing protocol that fits well in the post disaster communication scenario.