2015 | OriginalPaper | Buchkapitel
Exploring How People Collaborate with a Stranger: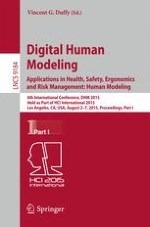 Erstes Kapitel lesen
Analyses of Verbal and Nonverbal Behaviors in Abstract Art Reproduction
Autoren: Haruka Shoda, Tomoki Yao, Noriko Suzuki, Mamiko Sakata
Abstract
We explored human-to-human communication when two people collaboratively attempt to reproduce an abstract painting. We examined the effects of friendship (i.e., stranger versus friend) and the task's three phases (i.e., first, second, versus third) on verbal and nonverbal behaviors. In our experiment, pairs of strangers (
\(n=24\)
, 12 pairs) and friends (
\(n=24\)
, 12 pairs) reproduced three abstract paintings. We measured the duration of their conversations, gestures, and painting behaviors, and the behaviors were labeled based on Traum (1994). The results showed that the amount and the functions of painting differed as a function of friendship. Since friends seemed more likely to focus on the efficient completion of the task, painting functions as a means of communicating images to partners. On the other hand, since strangers attempt to minimize conflicts with their partners, they start painting after discussing what to paint next.