01.10.2016 | Ausgabe 5/2016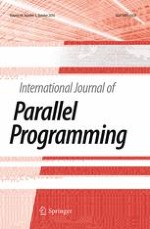 Exploring the Design Space of an Energy-Efficient Accelerator for the SKA1-Low Central Signal Processor
Zeitschrift:
Autoren:

Leandro Fiorin, Erik Vermij, Jan van Lunteren, Rik Jongerius, Christoph Hagleitner
Wichtige Hinweise
This work was conducted in the context of the joint ASTRON and IBM DOME project and is funded by the Netherlands Organisation for Scientific Research (NWO), the Dutch Ministry of EL&I, and the Province of Drenthe.
Abstract
The Square Kilometre Array (SKA) will be the biggest radio telescope ever built, with unprecedented sensitivity, angular resolution, and survey speed. Collectively, the SKA's antennas are expected to gather exabytes of data per second and store one petabyte of data every day, requiring exa operations per second for the processing. This paper focuses on the SKA1-Low, the SKA's aperture-array instrument consisting of 131,072 antennas that will be built in the first phase of the deployment of the project. In particular, our work explores the design of a custom architecture for the central signal processor (CSP) of the SKA1-Low. The CSP processes digitized samples sent by antennas receiving extra-terrestrial radio-frequency signals between 50 and 350 MHz. We describe the challenges in building the CSP, and present a quantitative study for the implementation of a custom hardware architecture for executing the main CSP algorithms. By taking advantage of emerging 3D-stacked-memory devices and by exploring the design space for a 14-nm implementation, we estimate a power consumption of 9.62 W for processing all channels of a sub-band and an energy efficiency at application level of up to 312 GFLOPS/W for our architecture.